Schedule Properties
You can schedule the time when a Microsoft Exchange Server dirsync server sends master address list updates to remote dirsync requestors. You should schedule your remote dirsync requestors to send local address list updates prior to your dirsync server's scheduled process time.
Getting to the Schedule property page
In the Administrator window, choose Connections.
Double-click the dirsync server.
Select the Schedule tab.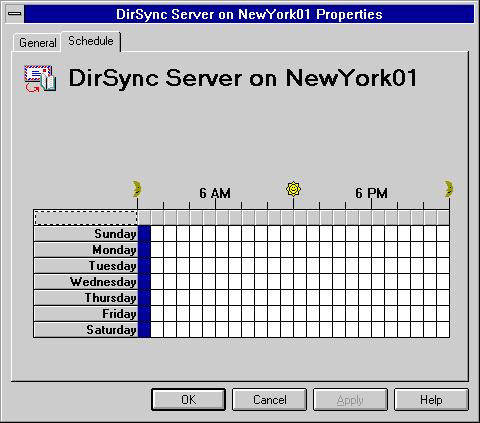 Setting the Directory Exchange Server Schedule
Use the Schedule property page to specify when directory synchronization messages are sent from the server to each requestor. If you are familiar with MS Mail Dirsync, this is known as "T3" time. The default is to send one update message each day at midnight. Directory synchronization messages are sent at the beginning of each hour selected in the schedule grid. Requestor messages to the server are processed when they are received.
Select the Schedule tab.
In the schedule grid, select a time to send directory update messages to the directory requestors.