General Properties
Use the General property page to set the basic properties for the Microsoft Mail Connector. You can establish the limits for message size transfer between Microsoft Exchange Server and Microsoft Mail. You can also determine installation and the date of last modification for the Microsoft Mail Connector.
Getting to the General property page
In the Administrator window, choose the site where the Microsoft Mail Connector is installed, and choose Connections.
Double-click MS Mail Connector.
Select the General tab.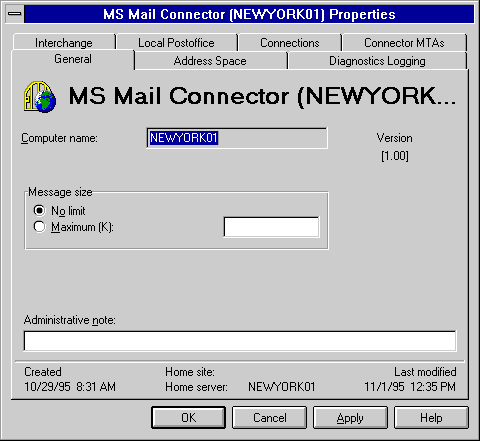 Defining Message Size Limits
You can define a size limit for messages passed through the connector. When you define a size limit, it is applied to both MS Mail (PC) and MS Mail (AppleTalk) systems. Setting a maximum message size can reduce the amount of traffic across your network.
Select the General tab.
Under Message size, determine a limit value.
| Option | Description |
| --- | --- |
| No limit | Messages of all sizes transferred. This is the default. |
| Maximum (K) | Maximum message size (1 to 9999999 kilobytes) to be transferred. |