Details Templates
You can use the Administrator program to modify details templates. Details templates allow you to customize the way information about recipients appears when a user requests to see recipient properties in the Address Book. For example, you can remove the Address box if you do not want to publicize information about recipient addresses.
The following is an example of a details template.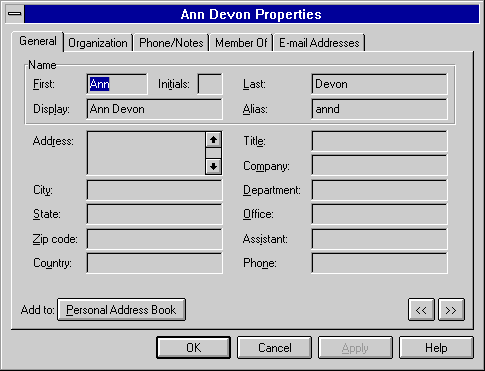 Getting to the details templates General property page
In the Administrator window, choose Configuration, choose Details Templates, and then select one of the language containers.
Double-click the template you want to modify.
Select the General tab.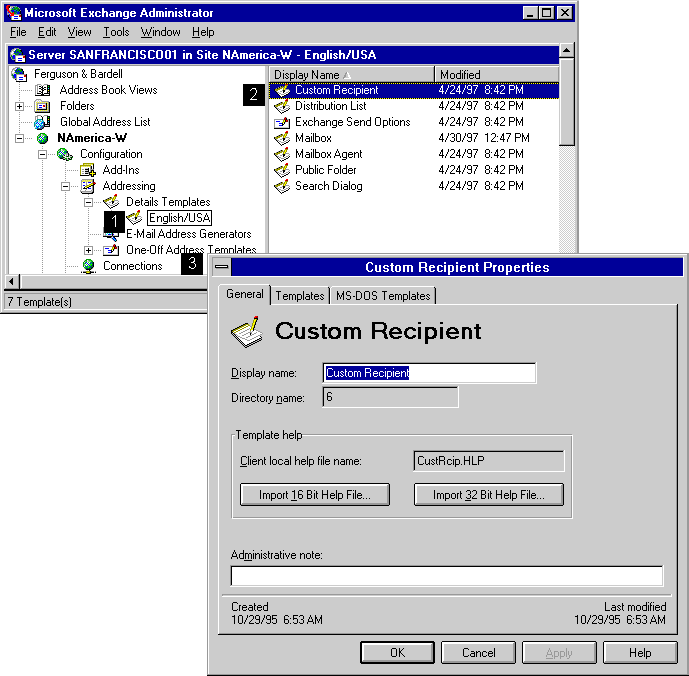 Changing Template Display Names
A template's display name is the name that appears in the Administrator window. Use the General property page to change the template display name.
Select the General tab.
In the Display name box, type the name as you want it to appear in the Administrator window.
Selecting Template Help Files
If you customize details and addressing templates, you can create and import custom template Help files. Information from these files appears when a user chooses Help or presses F1 while viewing information that is displayed using a details or addressing template. Template Help files are stored as attributes in the directory and are downloaded to a temporary directory on a client computer only when a user attempts to access Help from a template. Client Local Help File Name is the name of the template Help file that is created on client computers, regardless of the name of the Help file you choose to import and associate with this template.
Note Importing a new template Help file permanently overwrites previously defined template Help files. You should access all details and one-off address templates from a client computer, which creates copies of the associated Help files in the Temp directory of that computer. You can then save the Help files and import them as needed.

Select the General tab.
Under Template help, choose an option.
| Option | Description |
| --- | --- |
| Import 16 Bit Help File | Opens the Microsoft Exchange Administrator dialog box where you can select the Help file that will be displayed on computers using Windows 16-bit operating systems. |
| Import 32 Bit Help File | Opens the Microsoft Exchange Administrator dialog box where you can select the Help file that will be displayed on computers using Windows 32-bit operating systems. |