Maintenance and Troubleshooting
<<
>>
Server Clock Synchronization
Use the Clock property page for the server to see measurement results and time zone information. This property page is read-only; it cannot be edited.
Getting to the Clock property page
In the Administrator window, choose Monitors, and then choose a server monitor.
From the Tools menu, choose Start Monitor.
Type the name or browse for the server you want to connect to, and then choose OK.
Double-click the server that you want, and then select the Clock tab.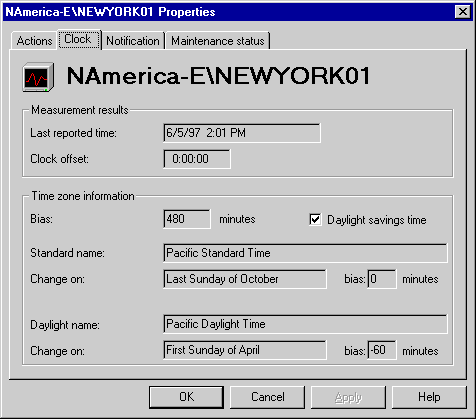 | Option | Description |
| --- | --- |
| Last reported time | The time on the server's clock when the last monitored check occurred. |
| Clock offset | The difference between the clock on the server being monitored and the clock on the server running the server monitor. |
| Bias | The difference between the server clock time and Coordinated Universal Time (UTC). |
| Daylight savings time | The box selected when an adjustment is made for daylight saving time. |
| Standard name | The name of the standard local time for the server being monitored. |
| Change on | The day when standard local time changes to daylight saving time. |
| Daylight name | The name of the alternate local time for daylight saving. |
| Change on | The day when daylight saving time changes to standard local time. |