Maintenance and Troubleshooting
<<
>>
Link Status
Link status shows the last bounce message sent to each server and provides details about the time the message spent between key points in the path. You can use this information to determine why a message has exceeded its maximum acceptable threshold. Also, link properties show the status of notifications sent in response to alerts and whether notifications and repairs have been suspended.
Note The link monitor must have been active for at least the time period specified in the Bounce property page.

Getting to the General property page
In the Administrator window, choose Monitors, and then choose a link monitor.
From the Tools menu, choose Start Monitor.
Type the name or browse for the server you want to connect to, and then choose OK.
Double-click the appropriate link monitor, and then select the General tab.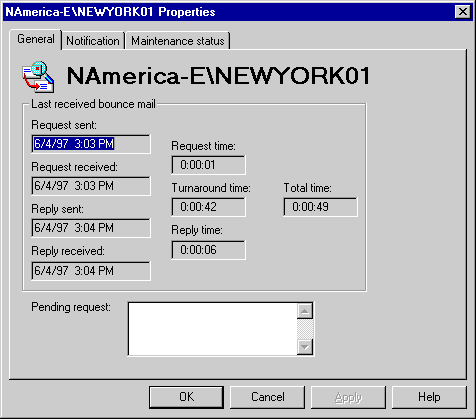 Viewing the Last Received Bounce Mail Details
Use the General property page to view the results of the last successful bounce message. These values are informational and cannot be changed.
| Option | Description |
| --- | --- |
| Request sent | The time the ping message was submitted by the system attendant on the sending server. |
| Request received | The time the ping message was received by the information store on the destination server. |
| Request time | The elapsed time between request sent and request received. |
| Reply sent | The time the system attendant on the destination server sent the ping message back. |
| Turnaround time | The elapsed time between request received and reply sent. This includes processing time of the system attendant on the destination server. |
| Reply received | The time the link monitor received a reply to the ping message. |
| Reply time | The elapsed time between reply sent and reply received. This includes message transfer agent (MTA) transport time on both servers. |
| Total time | The elapsed time between request sent and reply received. |
| Pending request | The date and time of all ping messages sent but not yet returned. |