Planning Considerations
When planning your migration, keep the following in mind:
Format conversion To ensure that messages are correctly converted from Novell WordPerfect format to Rich-Text Format (RTF), choose the Standard installation when installing the Novell GroupWise client. The Standard installation installs Novell GroupWise conversion tools that the Novell GroupWise source extractor needs to correctly convert messages. If you have an existing Novell GroupWise client installation, you can reinstall the Novell GroupWise client and choose Custom Install, then choose Files, and then select Additional Conversion DLLs. If Novell GroupWise conversion tools aren't installed, Microsoft Exchange Server displays a message indicating that formatting will be lost. The source extractor will convert the messages to American National Standards Institute (ANSI) format. If you don't want the messages to be converted to ANSI format, you can cancel the migration process and install the conversion tools before continuing.

Coexistence To achieve coexistence between Novell GroupWise and Microsoft Exchange Server, use a common gateway such as simple mail transport protocol (SMTP) or X.400, or a third-party point-to-point gateway to provide messaging connectivity. Some third-party point-to-point gateways provide directory synchronization between the two systems, in addition to messaging. The following graphic illustrates how gateways can be used to provide messaging connectivity during migration.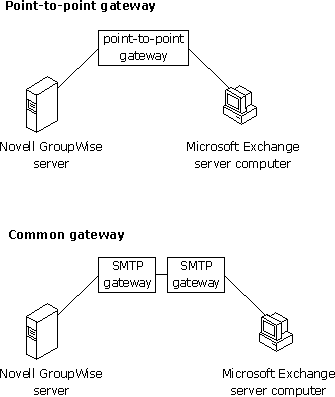 Updating directories If you are not using a gateway that provides directory synchronization, you can manually update the directories in the two systems. To do so, export the Microsoft Exchange Server directory by using the Directory Export command in the Microsoft Exchange Server Administrator program. Then, reformat the .csv file as a Novell GroupWise application programming interface (API) file and submit it to the Novell GroupWise API gateway.

To import the Novell GroupWise directory to Microsoft Exchange Server, submit a request to the Novell GroupWise API gateway. This gateway generates a Novell GroupWise API file. Convert the API file to a .csv file and import the .csv file to Microsoft Exchange Server by using the Directory Import command in the Microsoft Exchange Server Administrator program..
Proxy addresses Microsoft Exchange Server automatically creates primary proxy addresses for all installed connectors or gateways. For example, if the Internet Mail Service is installed, Microsoft Exchange Server creates an SMTP address for each migrated user based on the site addressing configuration. Unless you use the same site addressing configuration for Microsoft Exchange Server as for Novell GroupWise, the new proxy address will not be the same as the old address. To ensure that messages addressed to a user's old address are delivered to the new Microsoft Exchange Server mailbox, you can manually create a secondary proxy address by using the Administrator program or directory import. Any messages addressed to the secondary proxy address are delivered to their destination using the recipient's distinguished name (DN).