Routing External Messages
You can route messages to a foreign system through your existing system or through an intermediate system.
Routing Messages Through Your Existing System
If your existing system has a gateway to a foreign system, Microsoft Exchange Server users may be able to send and receive mail by using your existing system as a backbone to the foreign system. This depends on your existing system, and the gateway or connector that links it to Microsoft Exchange Server. For example, all MS Mail (PC) gateways can be used this way, because the MS Mail connection and MS Mail (PC) support backboning.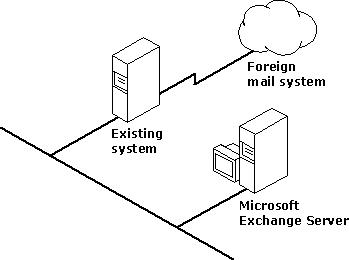 You need to test any configuration that uses the existing system as a backbone. Consider the following:
Will mailboxes on Microsoft Exchange Server have addresses for this gateway?
How will mail for Microsoft Exchange Server mailboxes be routed through the existing system?
Will migrated mailboxes be able to retain their old external addresses without having routing problems?
Routing Through Microsoft Exchange Server
The alternative is to connect a Microsoft Exchange Server connector or gateway to the foreign system. Users on the existing system can exchange mail with the foreign system through Microsoft Exchange Server. This depends on the existing system, and the gateway or connector that links it with Microsoft Exchange Server.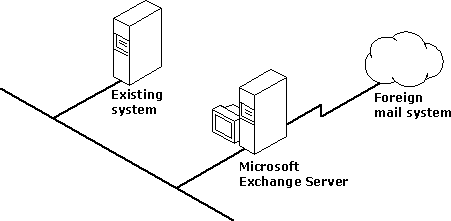 To use Microsoft Exchange Server as a backbone, you must do either of the following:
Configure the custom recipients of existing system users with their old external addresses.
After creating the custom recipients, inform the users of their new external address, and advise them to provide their new address to everyone with whom they exchange mail.