Advanced Properties for a Mailbox
You can provide a simple display name, set trust levels for directory synchronization, and determine whether the mailbox appears in the Address Book. You can also specify Microsoft Internet Locator Service (ILS) server and account names to enable other users to locate the mailbox owner and set up online meetings.
Getting to the Advanced property page
In the Administrator window, choose Recipients.
Double-click the mailbox you want to configure.
Select the Advanced tab.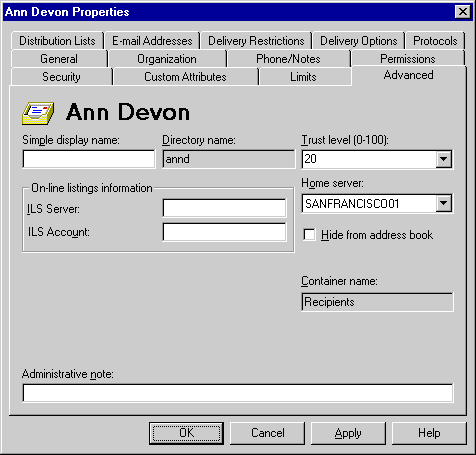 Setting a Trust Level for Directory Synchronization
The trust level determines whether a mailbox is sent to Microsoft Mail during directory synchronization with Microsoft Mail. If the trust level exceeds the trust level you specified for the directory synchronization requestor, the mailbox will not be sent during directory synchronization. Trust levels range from zero through 100.
Note To use this option, the Hide from address book check box must be cleared.

Select the Advanced tab.
In the Trust level box, select a trust level.
Specifying Online Listings Information for Microsoft NetMeeting
If your organization uses Microsoft NetMeeting(tm), you can specify ILS information for individual mailboxes. This enables other NetMeeting users to locate the mailbox owner and set up an online meeting.
Select the Advanced tab.
Type the name of the mailbox owner's ILS server and ILS account.
Setting the Mailbox Home Server
When creating a new mailbox, you can specify a home server. The home server is where the mailbox is located. The user logs on to this mailbox to send and receive messages.
After the mailbox is created, you can move the mailbox to another server by using the Move Mailbox command from the Tools menu.
Select the Advanced tab.
In the Home server box, select the Microsoft Exchange Server computer where the mailbox will reside.
Hiding a Recipient in the Address Book
You can hide a mailbox or other recipient so that users can't view it in the Address Book.
Note Even if recipients are hidden from the Address Book, you can still send them mail if you know their e-mail address and type it in the To box of the message.

Select the Advanced tab.
Select Hide from address book.