Outlook Web Access Configuration
Outlook Web Access is configured using the Microsoft Exchange Server Administrator program. The following illustration shows a possible configuration of the Microsoft Exchange Server computer and Outlook Web Access running on separate computers.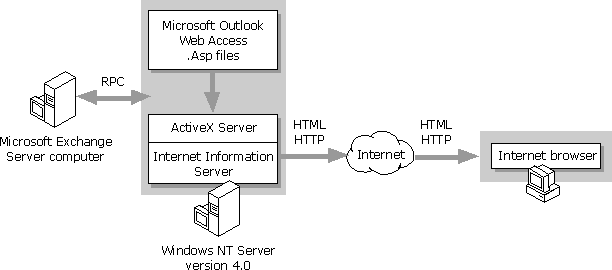 After Setup, you can use the Administrator program to define whether public folders and the global address list can be viewed by anonymous users. You can specify which public folders are available to anyone on the Internet. These are called published public folders and are defined using the Folder Shortcuts property page.
Users must have a copy of an Internet browser that supports JavaScript and frames, such as Microsoft Internet Explorer 3.0 or Netscape Navigator 3.0. Once you have configured Outlook Web Access, provide the URL to users. The format is http://<IIS server name>/exchange.
Getting to the HTTP (Web) Site Settings property pages
In the Administrator window, choose a site, and then choose Protocols.
Double-click HTTP (Web) Site Settings.