Message Format Properties
Use the settings in the Message Format property page to specify the format that Microsoft Exchange Server messages are converted to when they are retrieved by an IMAP4 client. These settings are based on the message format that the IMAP4 clients support when connecting to the server. The message content format and character set option can be configured for individual mailboxes, servers, and sites.
Note Messages sent by an Internet user are not converted. Instead they are retrieved by the IMAP4 client in the format that the message was originally composed in.

Getting to the Message Format property page
In the Administrator window, choose a site or server, and then choose Protocols.
Double-click IMAP4 (Mail) Site Defaults to configure site IMAP4 defaults, or IMAP4 (Mail) Settings to configure a server's IMAP4 settings.
Select the Message Format tab.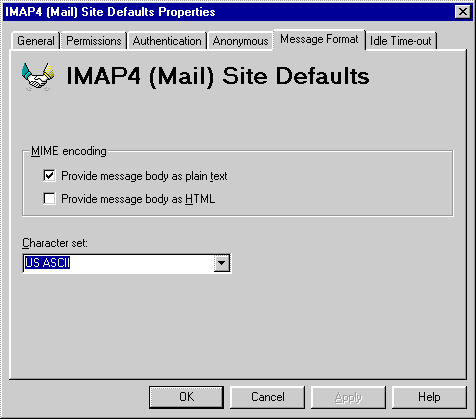 Specifying Message Format Options
When a user retrieves messages using IMAP4, you can specify how these messages are converted from the Microsoft Exchange Server format to various Internet mail formats.
Messaging Application Programming Interface (MAPI) clients such as Outlook are capable of multilingual support, but they compose messages using Microsoft Windows code pages instead of Internet character sets. For most languages, there is a one-to-one correspondence between the character set and the code page. If this is the case, Microsoft Exchange Server automatically assigns the correct character set that corresponds to the code page that the message was composed in. However, if multiple character sets exist for the same code page, Microsoft Exchange Server uses the character setting specified in the Character set box in the Message Format property page. If the character set is not appropriate for the code page, a default character set is used. For example, suppose a message is received that uses Japanese code page 932. That code page can be mapped to one of several character sets including JIS, Shift-JIS, and EUC. If the Character set box is set to Shift-JIS, that character setting will be used. However, if the Character set box is set to US-ASCII, Microsoft Exchange Server will use the default character set for that code page, which is JIS.
Messages that are received from the Internet already have a character set specified or will have one assigned to it when the message is received by the Internet Mail Service.
Select the Message Format tab.
In the MIME encoding box, select the appropriate options for message format.
In the Character set box, select the default character set.
| Option | Description |
| --- | --- |
| Provide message body as plain text | A plain text Multipurpose Internet Mail Extensions (MIME) body part is generated for the message. If Provide message body as HTML is also selected, Microsoft Exchange Server provides both Hypertext Markup Language (HTML) and plain text in a MIME multipart alternative message. |
| Provide message body as HTML | A MIME body part in HTML is generated for the message. If Provide message body as plain text is also selected, Microsoft Exchange Server provides both HTML and plain text in a MIME multipart alternative message. HTML is an Internet standard that enables rich-text formatting such as bold, color, and italic to appear in messages. Clients such as Outlook Express can read HTML. |
| Character set | The character set that is used when generating MIME messages that originate from Microsoft Exchange Server. The default character set varies according to the language installed on the server. |