Advanced Properties for a Custom Recipient
Use the Advanced property page to provide a simple display name, set message limits, set a trust level for directory synchronization, and determine whether the recipient appears in the Address Book.
The trust level determines whether information about a custom recipient is replicated to other sites during directory synchronization. If the trust level exceeds the trust level you specified for the directory synchronization requestor, information about the recipient is not replicated during directory synchronization.
Getting to the Advanced property page
In the Administrator window, choose a recipients container or an Address Book view container.
Double-click the custom recipient you want to configure.
Select the Advanced tab.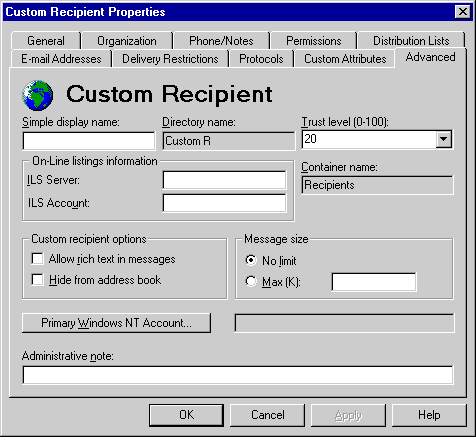 Specifying On-Line Listings Information for Microsoft NetMeeting
If your organization is using Microsoft NetMeeting(tm), you can specify Microsoft Internet Locator Server (ILS) information for custom recipients. This enables other NetMeeting users to locate the recipient and set up an online meeting.
Select the Advanced tab.
Type the names of the recipient's ILS server and ILS account.
Setting a Message Size Limit
You can set a message size limit that indicates the size of messages that can be sent to this custom recipient.
Select the Advanced tab.
Under Message size, select No limit.
| Option | Description |
| --- | --- |
| No limit | Sends messages of any size. This is the default. |
| Max (K) | Sets a message size. |
Allowing Rich Text in Messages
Rich text in messages allows the use of characters such as bold, color, and italic. Rich text also provides the ability to position attachments. The client must support rich text format to see rich text attributes in messages.
Select the Advanced tab.
Under Custom recipient options, select Allow rich text in messages.
Hiding a Recipient from the Address Book
You can hide a custom recipient if you don't want it to appear in the Address Book.
Note Even if custom recipients are hidden from the Address Book in the client, you can still send them mail if you know the e-mail address and enter it in the To box of a message.

Select the Advanced tab.
Under Custom recipient options, select Hide from address book.