Maintenance and Troubleshooting
<<
>>
Maintenance Schedule
Microsoft Exchange Server performs online maintenance tasks on a scheduled basis. These tasks include:
Performing deleted item retention cleanup.
Deleting expired folder indexes and expired items from public folders.
Synchronizing the server's information store version with other servers in the organization.
Removing expired public folder conflicts.
Use the IS Maintenance property page to schedule this maintenance for each server. Response times are slower while the server is performing maintenance tasks. Set the maintenance tasks to run during the least busy time of day, but make sure they run at least once a day.
Important If you do not schedule maintenance or schedule infrequent maintenance for a large or heavily used information store, performance can deteriorate.

Getting to the IS Maintenance property page
In the Administrator window, choose Servers, and then choose the server you want to configure.
From the File menu, choose Properties.
Select the IS Maintenance tab.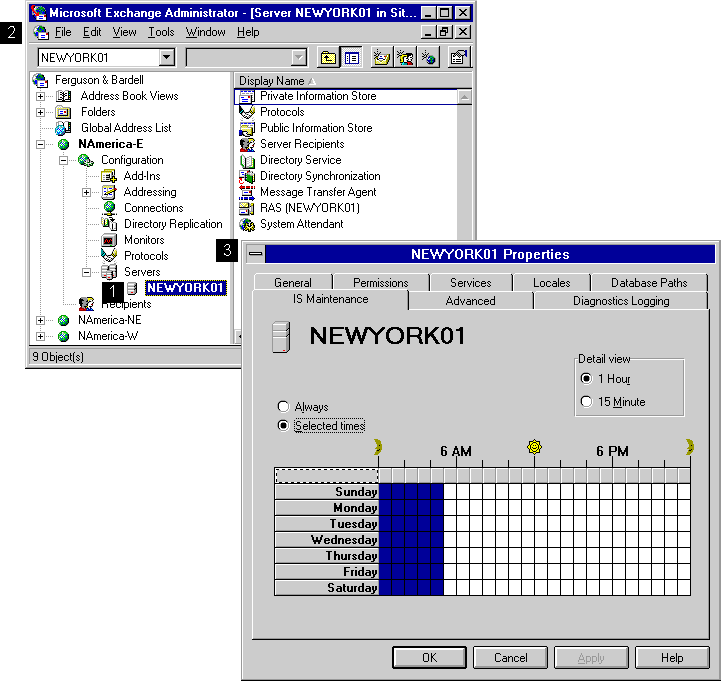 Setting the Maintenance Schedule
You create a maintenance schedule to prevent performance deterioration on the Microsoft Exchange Server computer. Knowing the server's least busy time helps you set time increments for scheduling maintenance.
Select the IS Maintenance tab.
Select Never, Always, or Selected Times.
Under Detail View, select a view for the schedule grid.
| Option | Description |
| --- | --- |
| Always | Performs maintenance tasks every 15 minutes. This option is not recommended because it can affect server performance. |
| Selected times | Assigns specific maintenance times in the schedule grid. Select a time or block of time when maintenance should occur. |
| 1 Hour | Displays the schedule grid in one-hour increments. |
| 15 Minute | Displays the schedule grid in 15-minute increments. |