POP3 Mailbox Configuration
You can configure POP3 on a per-mailbox basis.
Note If you disable POP3 on the server object, POP3 support is also disabled for individual mailboxes. For POP3 to be enabled on a mailbox, it must be enabled on both the server and the mailbox.

Getting to the Protocols property page
In the Administrator window, choose Recipients.
Double-click the mailbox you want to configure.
Select the Protocols tab.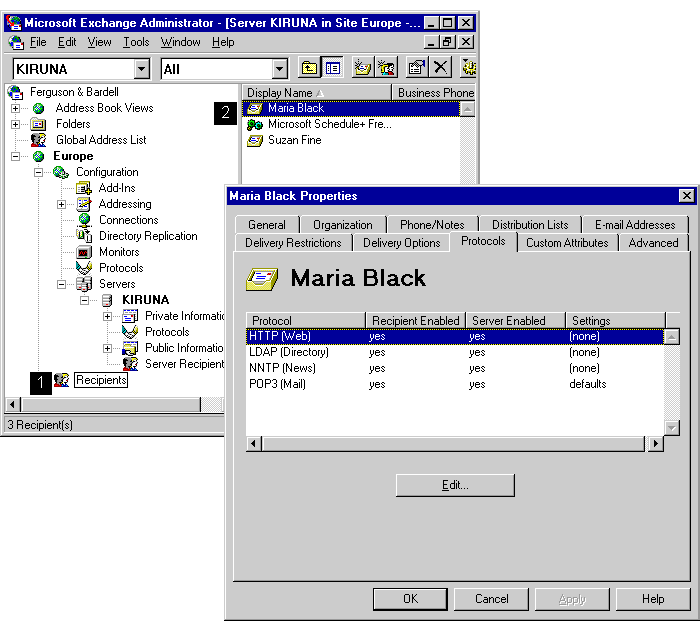 Enabling POP3 for a Mailbox
Use the Protocols property page to enable POP3 for individual mailboxes.
Select the Protocols tab.
Select POP3 (Mail), and then choose Settings.
Select the Enable POP3 for this recipient check box.
Specifying POP3 Settings for Message Encoding
If POP3 is enabled on a mailbox, you can use default settings for message format. Alternatively, you can customize the settings for individual mailboxes. You can specify how text and attachments are encoded and the character set that your recipient uses.
The settings in the Message Encoding box determine the format that Microsoft Exchange Server messages are converted to when they are retrieved by a POP3 client.
Note Messages sent by an Internet user are not converted. Instead, they are retrieved by the POP3 client in the format that the message was originally composed in.

Select the Protocols tab.
Select POP3 (Mail) and choose Settings.
Select options for message encoding and default character sets. To use message format defaults that you set at the server level, select the Use protocol defaults check box. For information about message format options, see "Message Format Properties" earlier in this chapter.