Maintenance and Troubleshooting
<<
>>
Starting Services Using Backup
You can use the Backup program to start Microsoft Exchange Server services. For example, you can restart services after you've restored a database from tape backup. This feature is useful when restoring remote Microsoft Exchange Server computers.
From the Operations menu in the Backup window, choose Microsoft Exchange.
In the Server box, type the name of the server that you want to start services on.
Select Start Service.
Select Directory or Information Store.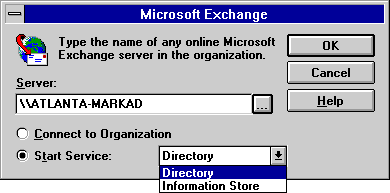 | Option | Description |
| --- | --- |
| ... | Displays the available Microsoft Exchange Server computers. |
| Connect to Organization | Opens an organization window so you can select a Microsoft Exchange Server computer in your organization. |
| Start Service | Starts the specified service on the server. |